Greetings my friends!
It's been quite some time since we have last met! I have been busy recently and with the computer issue; I wasn't able to upload a post. So let's not drag it on any further and get right into it!
This was the first product that I used from this brand. When I first heard about this brand, I felt that this brand is like targeting towards me. Like it was asking me to buy and try their products! I was really intrigued by it.
| | | |
| --- | --- | --- |
| Brand Target |   | Women interested in natural cosmetics |
|   |   | When it comes to choosing cosmetics, women who are interested in researching for information, rather than depending on name value or brand power. |
|   |   | Women who choose a brand wisely with their own standards, instead of following trends blindly |
That is like so me!! Do you know what I understand now why I said this brand is targeting towards me?! Hahaha!!
When I research about this brand, there were not many reviews on their products which gave me mix feelings. It was either not really known or the products gave no result for people to even blog about it. If you want to know whether this product gives results or not, read on for more!
If you want to know more information about the brand, click here .
FUN FACT: Goodal is a sub brand from Club Clio
What is it?
GOODAL Super Seed Oil Plus Skin Mist is a double layered fermented mist that can promise a boost of instant hydration, brightens up and make the skin smoother. Not only that, it says that it creates rich Whip-cream like smooth and silky skin. Woah… That is quite a lot of claim there. Let's see if this product lives it up their claims!
It says that this product can be used in a few ways. Like the typical facial mist, you can use this in your skincare routine (As a toner, essence or serum) or put on after makeup as a finisher.
Ingredients:
Water, Butylene Glycol, Triethylhexanoin, Hydrogenated Poly(C6-14 Olefin), Niacinamide, Pentylene Glycol, Hydrogenated Lecithin, Polyglyceryl-10 Myristate, Arctium Lappa Root Extract, Phellinus Linteus Extract, Cellulose Gum, Piper Methysticum Leaf/ Root/ stem Extract. Phenoxyethanol, Dimethicome, Jasminum Officinale (Jasmine) Extract, Morinda Citrifolia Extract, Paeonia Lactiflora Root Extract, Portulaca Oleracea Extact, Angelica Gigas Extract, Centella Asiatica Extract, Monascus Extract, Anthemis Nobilis Flower Extract, Beta Vulgaris (Beet) Root Extract, Eorago Officinalis Extract, Calendula Officinals Flower Extract, Daucus Carota Stiva (Carrot) Root Extract, Perilla Ocymoides Leaf Extract, Ethylhexylglycerin, Citrus Aurantium Bergamia (Bergamot) Fruit Oil, Pelargonium Graveolens Flower Oil, Argania Spinosa Kernel Oil, Camellia Japonica Seed Oil, Camellia Sinensis seed oil, Helianthus Annuus (Sunflower) Seed Oil, Macadamia Integrifolia Seed Oil, Olea Europea (Olive) Fruit Oil, Simmondsia Chinensis (Jojoba) seed Oil, Moringa Pterygosperma Seed Oil, Salvia Officinalis (Sage) Oil, Pogostemon Cablin Oil, Folic Acid, Ceramide 3, Cholesterol, Raffinose, Tromethamine, Palmitoyl Pentapeptide-4, Panthenol
According to COSDNA, there were no red flags in terms of acne triggers or irritants. Also, this product is free of Parabens and Mineral Oils. PLUS POINT!
Highlighted Ingredients
There are too many good ingredients to go to details for all of them so here are the highlighted ingredients that I found interesting in this product:
Niacinamide
This is a water-soluble active form of Vitamin B3. It has anti-inflammatory properties, reduces sebum, improve skin barrier function (Increase skin hydration) and improve complexion (E.g. Reduce blotchiness and pigmentation). Overall, this works well in brightening your complexion and lightening the hyper-pigmentation.
Arctium Lappa Root Extract
This extract has antibacterial and anti-inflammation properties that derived from Burdock Roots which is a plant. It traditionally uses for people with dry skins, acne, psoriasis and eczema.
<- Flower of the plant.
Phellinus Linteus Extract
It is derived from a medicinal mushroom used in Korea for centuries. It has antioxidant and anti-inflammatory properties. It is proven to be beneficial for those who have eczema. Not only, recently it's been reported to be a promising anti-cancer agent by Harvard University and other researchers.
Daucus Carota Stiva (Carrot) Root Extract
This extract has an anti-irritant property that gives a tightening and refreshing effect. This might be the main ingredients why I feel a tightening sensation after spraying the product on my face. There is Vitamin A, B1, B2, and C in this.
Argania Spinosa Kernel Oil (Argan Oil)
This is 1 of the 7 main oils that Goodal promotes that give elasticity care. Argan Oil is high in Vitamin E and fatty acid content which softens skin and hydrates the skin. It absorbs easily into the skin and is not greasy and irritating like some oil can.
If you want to know more, click here.
Camellia Japonica Seed Oil & Camellia Sinensis Seed Oil (Camellia Oil/Green Tea Seed Oil)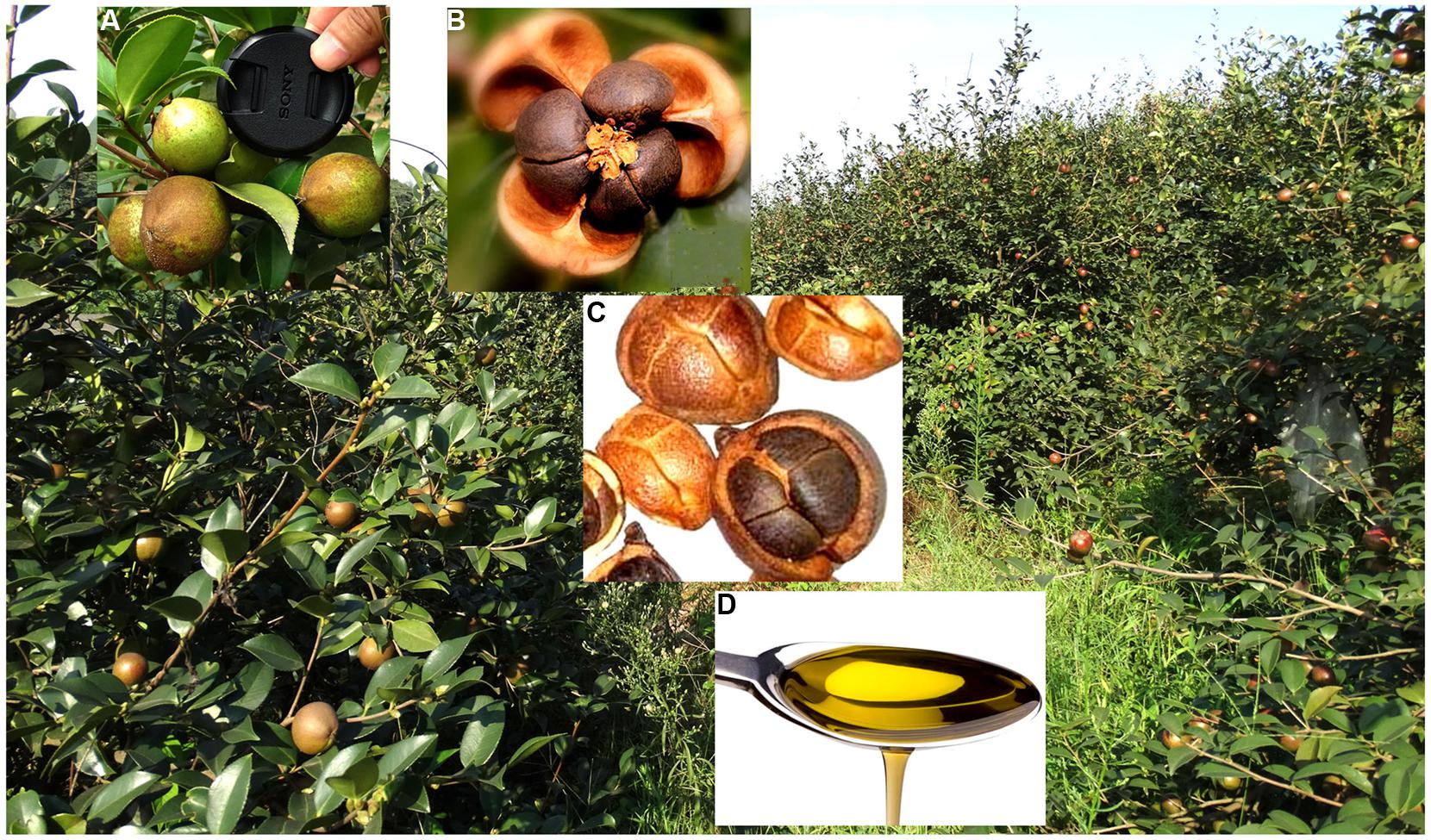 Same as the Argan Oil, this is 1 of the 7 main oils that Goodal promotes. Both ingredients are from Camellia Oil. The difference between them is that the Sinensis oil is the tea seed oil while japonica oil is known as Japanese tea oil or Tsubaki oil. Japonica oil is also different in terms of nutritional and chemical composition. Most benefits and effects are about same and under the same category of Camellia Oil. However, Japonica Seed Oil have more vitamins and nutritional properties than Sinensis Seed Oil which might be a reason why the company put in both instead of 1.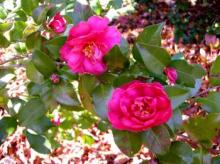 Anti-inflammatory
Anti-mutation
Anti-aging
Antioxidant
<- Camellia Flower
If you want to know more, click here.
Helianthus Annuus Seed Oil (Sunflower Oil)
This is the 3rd main oil that Goodal promotes. It has anti-inflammatory properties and is high in essential fatty acid (linoleic acid). It is proven to help maintain the skin barrier and prevent water loss from the transepidermal layer.
Macadamia Integrifolia seed oil (Macadamia Oil)
This is the 4th main oil that has high antioxidant and deep skin penetrating properties that absorb quite fast into the skin. This oil is great for those with dry and aging skin. It is good for oily skin as the oil is similar to sebum. The skin would stop producing sebum thinking the oil is sebum.
Olive Fruit Oil (Olive Oil)
This is the common oil that most of you know about and it is the 5th main oil.  I shall not go into details as most of you know it already. It has antioxidant and anti-aging properties.  It has Vitamin E and A that moisturize and reduce the free radical in your skin.
Simmondsia Chinensis Oil (Jojoba Oil)
The last main oil is Jojoba Oil that is known for great cleansing benefits. This oil has anti-inflammatory, anti-bacterial, skin soothing properties and is one of the oils that resemble sebum. Also, it is known to help regenerates and prevent irritation on the skin.
For more information on the oil, click here.
Folic Acid
It is a type of B vitamin which is also known as Vitamin B9 or M. This acid helps to increase the firmness of the skin, reduce acne and keep skin moisturized. However, the concentrate of this is low (at the bottom of the list) to actually see some effect.
Ceramides 3
Despite having a low concentrate in this product, I still want to add this in. I love seeing Ceramide 3 in products. (That's why I love my Guerisson 9 Complex Cream) If you don't know what Ceramides is, it is a family of lipid molecules inside our skin that occur naturally together with other chemical (Skin's natural lipids and keratinocytes) to form a protective outer barrier. This help to prevent bacteria from entering the skin and preventing water leaving the skin. Ceramide in products can either repair or strengthen the skin barrier especially when combine with fatty acids which many oils in this product have.
Before you say that I am missing 1 of the 7 main oils, I did not. Technically, there are actually only 6 main oils as Green Tea Seed Oil is actually Camellia Oil. Both of them come from the same plant! My guess is that the company categories it  by putting Camellia Sinensis Seed Oil as the Green Tea Seed Oil and Camellia Japonica Seed Oil as the Camellia Oil. Or…. It can be a type of marketing strategy. I wouldn't know! Only Goodal would know it.
Performance
Appearance
The dark plastic spray bottle is slightly translucent that if you put under the light, you can see the amount of product you have left. There is a transparent clear cap on top to prevent dirt from entering and accidentally pressing it.
(This after spraying it about 3-4 times in a very close range)
After shaking, the mist is a milky translucent white in color but when sprayed on the face; the color does not show.
Application
I usually apply this mist in 3 ways that I felt was the best way/result to use the product. I normally use about 3-6 sprays per usage depending on the skin condition. The spray is really good. The water particles are tiny and well evenly distributed that you don't need to spray so many times to get the product all over the face. Make sure to shake well before you spray!
The 1st way is after moisturizing or putting sleeping pack when I do my skin care routine slightly earlier in the night. For me personally, I like to sleep when my skin is really hydrated and moisturized. There are some days when I do my night-time routine at 7-8plus. So by the time I go to sleep (Around 12 or later), your skin is not as hydrated and moisturized as I like it to be. So I would spray this and tap it into the skin. My skin would get hydration and moisture as I like them to be before going to bed. Also, the mist absorbs quickly into the skin despite the huge amount of products on the skin. So you do not need to worry about going to bed with wet face.
The 2nd way is simply applying throughout the day. I have dry and sensitive skin despite living in a humid and 'summer all year around' country.  I use this to decrease the skin temperature of the skin (To prevent acne), sebum production and increase moisturize on the skin. This helps to preserve the dewy makeup look that I like. However, make sure NOT to tap it into the skin as you are patting all the dirt and bacterial into the pores which will cause skin problems. (E.g. Acne and Blackheads)
The 3rd and last way is apply it after cleansing your face when you are done with your gym session. After exercising, you would want to wash your sweat and dirt on your face but you either do not have the time to do a full routine or you will be going home in a few hours but not right away or don't want to bring so many skin care products out of the house. I would wash my face with a gentle cleanser or splash your face with cold water (Make sure to dry your face after washing if not you will have white spots) and spray the mist on your face. Even after washing the face with drying cleanser, your face is not dry or irritated it moisturizes and gives a slight dewy finish. I tend to spray more for this but make sure not to over spray as the skin will get quite oily.
(BEFORE)
(AFTER)
The picture does not do the product justice at all but you can see the slight difference in the photo. Could you see how the product gives the skin a brighter complexion and gives a healthy glow?! Wish you could touch my hand right now! To feel how smooth and soft it became!
Result
My skin is; if you do not know; really dry, sensitive and sometimes have small eczema patches. I have been using this product for over 4 months and I have to say that I really love this product. This really moisturizes and hydrates my skin really well. Not only that, it is not sticky and absorbs really quickly.
Usually, throughout the day, my skin would start to itch. However, after using this; the number of times my skin itches throughout the day decreases.
Due to my fitness job, I exercise 6 days a week and wash my face like 3-4 times max per day. I would also have to rush from outlet to outlet. I would not have time to do a full routine so this is perfect for me and those who have tight schedule. This gives your skin a great boost of instant hydration before you are rushing around with work. However, if you spray too much, it will get really oily.
Another thing is that even though spraying too much for 1 usage can get your face oily, using this many times during the day will not get your face oily. The highest number of times I use this within a day was 8 and it did not break me out or make my skin oily.
There is some tightening sensation and it might be due to the carrot root extract like what I explain earlier but the sensation will be even more obvious when you do not put anything underneath it.(3rd way) I prefer to put at least a toner or essence before spraying it on to prevent the tightening sensation as I do not like it. It feels like my skin is dehydrated but it is not.
Even though they claim to have whitening effects, I don't see any effect but only a slight brightening when you use it in the 1st and 3rd way. Not so much when you put it throughout the day with or without makeup on.
This does not set your makeup and if you over spray, your makeup would start to clump together and might have patches of makeup instead of a smooth canvas. However, spraying it slightly further away for about 1-3 times gives you a natural dewy glow on your skin.
This is refreshes and cools my skin but not as good as a thermal spring water facial mist. If you want just want to cool down your skin temperature and refresh your face; this is not the product for you. As you would overspray and cause your skin to be oily. You would not feel refresh and satisfied at all.
If you do not shake properly, the milky white color would be more obvious on your skin when you spray it but it will disappear after it dries.
It does give your skin a smoother skin but not a 'rich whip-cream smooth and silky skin' like what they claim. However, it does makes your skin slightly more soft!
Also, this prevents eczema from coming back and helps slowly reduce the eczema on my face.
| | |
| --- | --- |
| Pros | Cons |
| Hydrating | Tightening sensation |
| Moisturizing | Can be too oily if over spray |
| No Stickiness | Does not set makeup |
| Gives a slight brightening effect | Can make makeup clumpy |
| Makes your skin smoother and slightly softer | Not as refreshing and cooling enough compare to any Thermal Spring Water Facial mist |
| Slighty refreshing and cooling | Tightening sensation |
What is there to say except I love this product a lot!! I know there is a lot of information to take in but I hope you find this useful in helping you purchasing your products! Have a great day ahead! *Muacks*
♥
Lydia